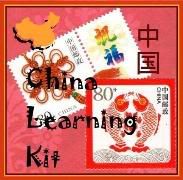 A few months ago
Jimmie
blogged about a fellow mom in China who was creating a business by selling
China learning kits
. I jumped at the chance to receive one of these kits because I am a tactile person and I love being able to see and touch real objects. I was not disappointed.
The kits are $13 and include 10 objects and an identification pamphlet. It took about 25 days for the package to arrive. The stamps and writing on the envelope were just as exciting as the items inside.
G looking at the package, trying to figure out where it is from.
Paper Lantern
Red Money Pouch
The entire kit