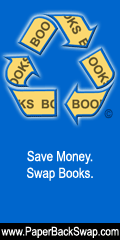 Do you Swap? I love Paperback Swap. If you don't here is how easy it is.
1. Post 10 books (hard or soft cover, audio) you don't want any more.
2. Accept 2 credits to spend for your effort.
3. Mail any books requested from you as cheap as possible (I think my most expensive has been $2.50)
4. Order books you want- 1 credit books, 2 credits audio books
I have gotten only one book that was in questionable condition most have been like new. We have explored series that our library doesn't carry,
Andrew Lost
,
Franny K Stein
. I have also gotten a huge amount of curriculum. It is a great way to check a company out then if it's not for you, repost it. You can also start a wish list for things you want or may use in the future. I have all of the Story of the World materials wish listed.
Here are the great Homeschool resources I have swapped for:
AVKO Sequential Spelling 1
(on it's way)
Wordly Wise A
Explode the Code 3
Developing Critical Thinking Through Science 1
A Peoples History of the United States
Prima Latina Teachers Manual & Cd
What Your ___ Needs to Know (K, 1, 2, 4, 5,6)
Minimus Pupil Book
Eats, Shoots and Leaves
Thinker Doodles-Clues & Choose
Thinker Doodles- half & half animals
Dr. Dooriddles
Coloring Book of Ancient Egypt
Pharaohs of Ancient Egypt
Daily Word Problems gr1
Singapore Math 1A
Strong Start in Language k-3
If you don't Swap you might consider it... If you do, check out my stuff through the button in my side bar and tell me your list name so I can check out yours!